Come to the Charité and become part of cutting-edge medicine. Exciting continuing education and specialization programs, many opportunities for advancement, family-friendliness and an innovative labor agreement will take you and your career all the way to the top. We also welcome people that are changing careers or re-entering the workforce and provide them with extensive training.
Discover the open positions here and get in touch with us!
You and the Charité. The perfect match!
Because you make the difference
As a nurse specialist, you will be making an essential contribution to the ideal care of patients. You will be responsible for designing the entire nursing process independently, from admission to patient discharge. This includes planning, implementing and evaluating various care measures.
Working on equal terms
As a nursing professional, you are always working closely with multiprofessional teams. You coordinate your work with physicians, therapists, psychologists, medical-technical occupation groups and many other team members as equals. In addition to assisting patients, you will also be responsible for administrative work.
Exceptional and exciting
Things will never be boring at the Charité because you will be encountering rare disorders, state-of-the-art technology, and innovative treatment options. In addition, you can choose from a wide range of training and qualification opportunities. They enable our team members to pursue various career paths and continuously develop their professional competency. During their professional career, our nursing professionals can choose one of four career paths, which are divided into different career stages – from entry-level after three years of vocational training all the way to academic clinical nurse specialist in highly complex care situations.
Especially family friendly
Accommodating work and private life? At the Charité, this is possible! For example, we support you in caring for your children or offer you family-friendly working hours, advise you on caring for your relatives and give you the opportunity to take advantage of discounted sports offers. Get in touch with us, and arrange a personal appointment so that you can learn more about what it is like to work at the Charité.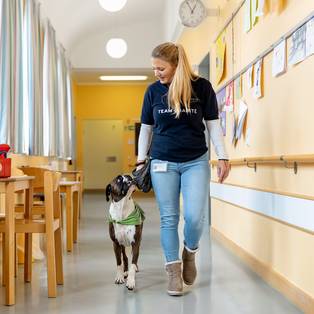 "The Charité supported my idea of hiring a therapy dog from the beginning. You can turn your passion into a career here!"
Job vacancies
Currently the job offers are only available in German. The English version will follow shortly.
Many opportunities for your job at the Charité
Every person is unique - so are the jobs and opportunities at the Charité.
At Charité you are the expert in care
Nursing is an extremely demanding job. Due to the rare and severe diseases that are cared for at the Charité, this is especially true here. It is therefore important to us that you and your work are recognized and that the communication of the multiprofessional teams takes place on equal footing. With us, you are an important part of the high-performance medicine practiced here.
Currently, we are looking to fill the following open positions, among others:
Licensed practical nurse

Intensive care nurse

Licensed practical and pediatric nurse

Oncology nurse

Psychiatric nurse

Surgical inpatient nurse

Geriatric nurse

Nursing assistant
In addition, we have other exciting and varied jobs available in the health care professions.

To the job offers
"I enjoy working with people. In the ward, no two days are the same. That's what makes the work so exciting!"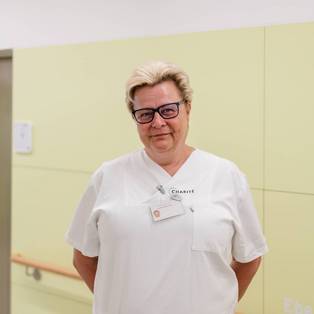 What we offer
A new labor agreement
You won't find yourself on understaffed and stressful shifts! We make everything transparent and ensure balance. Find out more here.
Europe's best hospital
Work at the best hospital in Europe! You can find out more about how we strive to provide excellent healthcare, training, translation and research here.


We practice collaboration
The motto "Together a whole" forms the basis of our work. Caring and respectful interaction within the team and with our customers is simply a matter of course for us.
Contact
Do you have any questions or are you interested in job shadowing?
Please feel free to contact us – we look forward to hearing from you!