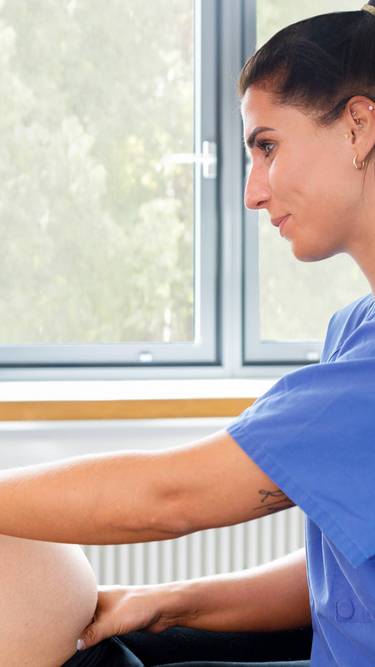 Midwifery at the highest level:
Become a midwife at the Charité
We are looking for you to join our team of midwives
Do you want to be close to women and their families, work at the highest medical level and constantly learn new things at all times? Then you have truly come to the right place.
As a level I perinatal center, we help more than 5,500 children get a good start in life every year. The key to this is the well-coordinated and interdisciplinary team.
The Charité has two centrally located maternity clinics in Berlin, which are directly connected to neonatology wards. The anesthesia ward is also on the same floor. This allows you to fully focus on the care of mother and child.
Apply today and become part of our team!
Job vacancies
Currently the job offers are only available in German. The English version will follow shortly.
"I love my midwifery team and can't see myself working anywhere else. I can rely blindly on every single colleague. We are all pulling together."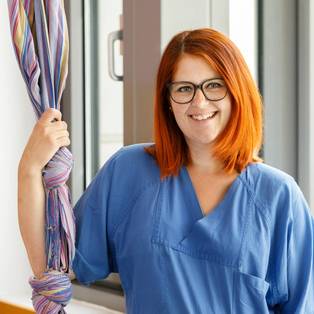 We focus on personal responsibility and closeness to family

As a midwife at the Charité, your expertise for pregnancy, midwifery and postpartum support counts. Your daily routine is especially diversified because you will attend natural physiological births and also accompany sick mothers and children during delivery. The range of treatments for rare disorders is unique in Berlin and beyond its borders.
You will also be part of a team that is particularly well-versed in dealing with natural twin births as well as natural births from breech presentation. These births are preceded by an extensive consultation. If necessary, we also offer a sectio – the so-called "Caesarean" – as standard.

Comprehensive pre and postnatal care
As a midwife, you prepare families for a very special moment. In communication with expectant mothers and their partners, your work will include educational sessions, special consultations and childbirth preparation classes. Our postpartum care includes a variety of services like postnatal exercise, infant care education and parent networking offers.

Responsibility in a closely networked team
Another focus of your midwifery work at the Charité will be the care of pregnant women on our prepartum wards. Whether assisting during premature labor, the induction of labor, or in many other situations – loving midwifery care is especially important to us.
You will work independently and autonomously with pregnant and delivering women as much as possible. With us, you will experience comparatively flat hierarchies and trusting interaction. You will hereby always be in close contact with a highly qualified interdisciplinary team and the physicians on duty will be on hand to offer advice and support. The special thing about the Charité is that the neonatology and anesthesia wards are connected directly to the maternity clinics, and the colleagues can be on site within seconds.
Independence and mentoring in training
We are training the next generation of midwifery experts. In addition to the latest medical knowledge and diverse practical experience, it is also important for us to convey the strong solidarity among midwives as well as values like honesty and respect. In total, the Charité accompanies three midwifery courses and offers the trainees and students close personal exchange through a mentoring system.
See job offers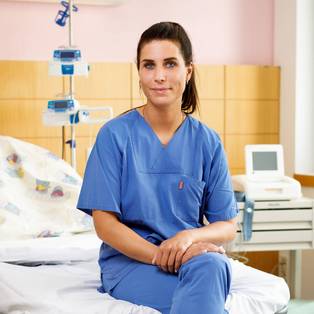 "I really enjoy training the next generation of midwives. The delivery room is a special place that I love to get others excited about."
"No other maternity clinic offers that much variety. The individual care of families makes this job very special for me."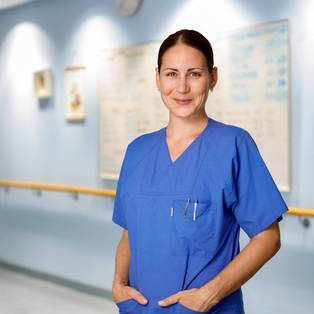 What we offer
Europe's best hospital
Work at the best hospital in Europe! You can find out more about how we strive to provide excellent healthcare, training, translation and research here.
Family and career are compatible at Charité
We offer free social service counseling if you have relatives in need of care, cooperate with daycare centers, emergency and vacation care facilities, and work with the family portal Voiio, which provides a list tutoring services, among other things.
We practice development
Your medical and personal development is important to us. That is why we support you with free certifications, grants, specialist symposia and programmes and coaching opportunities.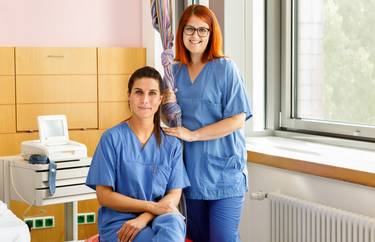 Contact
Do you have questions about midwifery at the Charité? Or are you interested in job shadowing and want to get to know the team better?
Please feel free to contact us – we look forward to hearing from you!
E-mail: bewerbung@charite.de